In this BigCommerce reviews post, we will give in-depth insights on BigCommerce, one of the best-known e-commerce solutions. In this post, we will be walking through the features of BigCommerce.
You will discover its pros and cons. You will have a better idea whether to go with BigCommerce or find its better alternative at the end of the article, though. Let's start the bottom line with the simple question of what BigCommerce is?.
What is BigCommerce?
It is a robust e-commerce platform that accelerates your business growth at the lowest total cost of ownership compared to other leading platforms.
It is a hosted e-commerce solution in the new era of business, allowing its owners to set up their products selling websites.
The hosted means that BigCommerce has its servers enabling its customer not to buy any web-hosting or install anything on your pc to use it.
What you should have is just an excellent internet connection and access to the browser. Thus, you can build, manage and use your store anywhere.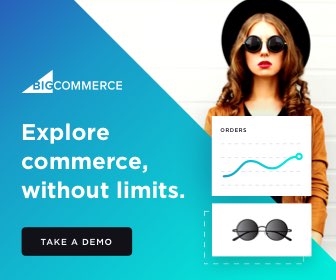 Moreover, It is a software as a service product. It means that you do not hold the software; you have to pay a monthly or annual fee.
BigCommerce features
The comprehensive set of features of BigCommerce are relatively unique when it comes to online store builders.
In contrast, many related online store developers require you to upgrade to more grand plans or paid-for apps to install and access several features given free in BigCommerce.
These are some of the main features of BigCommerce.
Includes API(application programming interfaces) that enable your BigCommerce platform to expose your services to other applications or platforms.
It comes up with a built-in tool that transfers an email invitation to consumers who have added an item from your store to their cart but left before ending checkout.
 The emails sent are customizable and can be consolidated with the coupon codes to attract your shoppers to finalize their purchases.
Include built-in analytics reports known as E-commerce analysis. It is a set of tools that reports visitor metrics, identify order trends, shape your merchandising strategies, and help to maximize the efficacy of your marketing campaign.
Also, contain an activity dashboard that gives access to the comprehensive end-to-end view of your customer's engagement. You can view the revenue of all your marketing channels in one place. Activity dashboard enables you to understand the performance of your merchandise that will save time, resources, and money.
The built-in analytics suite gives 11 reports tailored from the various aspects of your store. BigCommerce also contains a drag and drop feature to build a page.
You can be integrated into PayPal and many other payment gateways without charging additional fees.
There is no limit to building a staff account and getting unlimited access to create invoices.
Optimize your web store with the Search Engine Optimization (SEO) tools and automated image optimization by the Akamai image manager.
Get integration with various third-party apps to grow your business.
Have the ability to twitch CSS and HTML as wanted. Well, you can even create a 'headless' site with BigCommerce.
BigCommerce WordPress Plugin
If you have a WordPress site and want to add an online store to it, then you can consider utilizing BigCommerce WordPress plugin.
BigCommerce plugin seamlessly blends e-commerce experience with your existing front-end content.
If you have multiple WordPress sites, you can manage catalogs, orders, and shipping using one single control panel. This helps to save time on managing your online stores on WordPress.
BigCommerce services
BigCommerce provides astonishing software to businesses. It helps them contrive online and mobile stores, handle payments with currency conversions.
BigCommerce had assisted 60,000 online stores in 120 countries in June. Rating and reviews functionality is given to the businesses. Gave POS functionality to let you use a BigCommerce store within a physical location.
BigCommerce templates
BigCommerce offers a sensibly good selection of warm templates that you can utilize for the layout of your online store.
There are 12 free-of-cost BigCommerce themes and almost 150 paid themes. Each template contains several different modifications, so there is a lot to choose from.
Free themes
The free themes offered are modern designs, professional displays, and a good origin for developing an online store.
However, several of them are pretty related to each other. That's a distinct issue with the free themes: technically, 12 available templates look like just five themes with different intensities on offer.
It shows that BigCommerce arguably doesn't give wholly so much thrill for the buck as other explanations in the theme department, like Shopify.
Paid themes
 You can consider purchasing one of the paid BigCommerce themes. That is available in relatively reasonably rated, starting from $150 and covering up to $300 (seldom, you can pick one up at a discounted rate during sales)
On the whole, you will be capable of generating a professional scheme for your BigCommerce store utilizing either the free or premium themes — it'd just be competent to see the variety of themes elongated a little.
Applying themes
One area where you could improve the themes involves typefaces. The bundle of font selection in most free templates is scanty compared to opponents like Shopify and Squarespace.
Although affixing another font is doable, adding some key to your template file won't fit all users. Moreover, It's also a little arduous to protect several site elements in BigCommerce templates.
For instance, when inquiring about the 'Vault' template for this BigCommerce article, we haven't noticed an obvious way to exclude the search bar. In the 'Fortune' Templates, we could not drop the sidebar without adding some CSS.
The plus point is that free themes are mobile-friendly and significantly are AMP — Accelerated Mobile Pages enabled.
BigCommerce Vs Shopify
BigCommerce and Shopify both are subscription-based software that allows you to set up your online store and sell your products online.
Both of them are a software as SaaS tools. Now, we will tell you how both the software are different and which one is the best to go for.
Pricing
The first question that arrives by consumers is how BigCommerce is different from Shopify in pricing?.
BigCommerce offers four pricing choices:
Standard: It offers $29.95 per month
 Plus: It gives $79.95 per month.
 Pro: Its pricing is $299.95 per month
 Enterprise: fluctuates depending on customers specifications.
Shopify gives five pricing methods:
Lite: It's just $9 per month
Basic Shopify: A basic plan offers $29 per month
Shopify: It is the moderate plan that offers $79 per month
Advanced: It is available for $299 per month
 Plus: pricing deviates depending on customers' needs.
Transaction fees
Another frequently asked big question by potential users is Does Shopify or BigCommerce cut transaction fees from my sales?
Well, it's a triumph for BigCommerce here because it doesn't cut transaction fees on all of its plans.
While in comparison, Shopify also doesn't charge a single penny on all plans but only in one condition if you use its own payments system to proceed with card transactions, rather than outside payment gateways.
If you haven't used Shopify Payments, it will apply transaction fees that vary with the plan you're on.
Templates
Both of the software provide free themes access. BigCommerce provides 12 free themes, whereas Shopify contains nine free templates.
You'll pick Different varieties within these, so both products give you more choice in the free template range.
The bottom line is that you can get more edibility from BigCommerce and more choices from Shopify.
BigCommerce Pricing
It contains four subscription options. All of them have been given below.
Standard plan
Its pricing is $29.95/month. Features you got with this plan rather than main features are
Get your mobile responsive website
BigCommerce mobile app download
Various pages builder
Single-page checkout for the customers       
Get payment through Apple pay, Google pay, Amazon pay
Coupons, discounts and gift cards for the consumer to built trust in your site.
Get paid in Multi-Currency    
Real-time shipping quotes                 
Professionally assist reporting tools  
Built-in blogs showcasing your website
Get ratings and reviews on products             
Free Sitewide Dedicated SSL and HTTPS 
Plus plan
This plan is available for $79.95/month—the most popular program with additional features and themes.
Rather than standard subscription features, it contains customer groups and segmentation, abandoned cart savers, and persistent carts. Moreover, Stores credit cards, google customer reviews, price lists, and custom products filtering are also included.
Pro Plan
This plan is a bit expensive, but those dollars are worth it. The features are the same as any other plan, but it gives sales per year up to $400k**. Thus, it enables you to scale your growing business with a comprehensive set of features.
Enterprise Plan
Get the plan over the custom prices. Enterprise is a pricing plan that powers your team's success with the best full-service open platform. It contains all the features of each program.
Pros of BigCommerce
Provides a manageable user interface for adding stocks.
Allowing you easy credit card payment processing.
Rapid customer support.
It can hold a ton of products.
 It is separate from your regular website, so if your site runs down, your shop won't.
Cons of BigCommerce
The website design division is unfortunate. Very hard to refresh with complete certainty.
The website template is tough to manage.
It can fully customize all product detail pages. Which creates pages with CSS that look disorganized.
Conclusion – BigCommerce Reviews
We have concluded that these are some of the points that make BigCommerce differ from others.
 Transaction fees have not been applied, despite the payment gateway used.
You can trade in multiple currencies more efficiently with BigCommerce.
 You generally get more e-commerce specialities on the $29.95 and $79.95 BigCommerce plans than any other equivalents.
It's more straightforward to build bespoke page designs with BigCommerce, gratitude toward its drag-and-drop page editor.
It's accessible and easier to create AMP reports of your store in BigCommerce.
Adept reporting is free on all BigCommerce plans — this is not free in the case of Shopify.
Third-party real-time courier quotes are prepared much more reasonably with BigCommerce — this functionality is added in its $29 per month plan. In contrast, to any other e-commerce site.