Nextiva cloud phone system is a voice-over-internet-protocol (VoIP) services company based in Scottsdale, Arizona. Nextiva focuses on cloud-based communication 150,000 businesses currently use Nextiva's telephone and other technology services.
Nextiva has a lot of features, and I don't need most of them. That said, the product is excellent, and the customer service has always answered my questions and solved any issues.
I have had other VOIP providers and have had various problems, but Nextiva is by far the best for my needs. I highly recommend them.
What Are The Major Benefits of Cloud Phone System?
Realize real cost savings when compared with a live answering service.
Always sound professional to customers and clients. 
Make your business sound more established. 
Completely customize your menu and answering service. 
Spend more time on what matters.
What is Nextiva?
Nextiva Review – Best Cloud Phone System
Nextiva markets itself as being built for "non-technical business owners, not IT wizards." My review examines the plans available, their features, the software's usability, and how it compares to its competitors.
You can then use the information to decide if Nextiva could offer the right VoIP solution for your business.
You can select a specific plan based on your company's size and specific requirements.
Nextiva app
The Nextiva App is a business phone answering service app that enables complete mobility for Nextiva customers. Stay connected when you're away.
VOIP call center
A VoIP call center completes business calls over the net using Session Initiation Protocol (SIP) which helps to digitize call sessions. Nextiva's cloud phone system routes certain call queues to specific agents.
Till an agent connects to a caller, inbound callers hear soothing music, announcements, and any other helpful messages from the company. A VoIP call center just requires an internet connection and software installed on a pc alongside an optional VoIP desk phone.
With Nextiva, you can handle more than 500 calls in a queue. The benefit of using Nextiva for your business's phone systems answering software solution is that it runs on the cloud and can answer as many incoming calls as you need.
Call center service agents can be located in an office or remotely, even from the convenience of their home. Nextiva's call center is so powerful, and we rely on it ourselves.
It's easy to set up your VoIP call-center using Nextiva. Every account receives guided assistance to activate its cloud-based business telecommunications tool. Additional CRMs are available for more hands-on implementations.
Nextiva features help agents serve callers, supervisors manage their teams, and business leaders to focus on superlative customer experience.
Popular cloud phone system features include:
Call Monitoring
Call Disposition
Agent Availability
Built-in Reporting
Supervisor Dashboards
Live Call Status
Intuitive software-based CTI
Queue Whisper Announcements
Nextiva's VoIP-based call center pricing starts at $50 per month/user with no upfront hardware costs. For advanced call center functionality built for the enterprise, you can expect to pay around $100 to $150 every month.
There is no charge for setup or activation fees for Nextiva's VoIP solutions. It's one of the most cost-effective contact center solutions for your small business.
Nextiva Fax
Nextiva vFAX is an online fax receiving service that helps users to send and receive virtual faxes using their system or mobile device.
Receive and send faxes via the Nextiva vFAX portal, email, or even a traditional fax machine (must have the Nextiva Fax Bridge device). 
Nextiva Fax Benefits
Nextiva, vFAX enables an enhanced level of flexibility and mobility that changes the way any company operates. 
Always-Online, Never Busy:  Dialing means no busy signal.  Send faxes over the web and store them for up to six months. Never miss single fax!
Check them Anywhere: All faxes are stored electronically and sent via email to access them online from any location. 
Computer not Required: Use a Computer, tablet, mobile, or traditional fax machine to receive and send faxes. 
Fax Machine Assistance: Utilizing the Nextiva Fax Bridge, Users can use a fax device to send and receive paper faxes.
Nextiva Fax Features 
Gone are the days of fretting about missing faxes due to the fax machine jammed, out of paper, or busy. 
Online Portal: Send and receive faxes, view previous faxes, and configure account settings, all from the Nextiva vFAX portal.
Fax by Email: Quickly send faxes via email by attaching a file.  
Fax with a Mobile Device: Send and receive faxes instantly from a mobile device via email or the Nextiva vFAX portal. 
Secure Transmission and Storage: Faxes are sent via encrypted data transfer and stored in maximum-security data centers. Every fax sent or received uses 256-bit SSL encryption to keep sensitive information secure. 
Multiple Recipients: Send single fax to up to six recipients at one time from the Nextiva vFAX portal and up to five recipients via email.
 Nextiva CRM
Nextiva Service CRM is a multi-channel customer assistance and customer experience software that allows operators to help customers over multiple communication carriers, managing all their communications in one place.
With AI tools, an inherent rules engine, and database builder, companies can automate workflows to preserve time and effortlessly obtain insights from the data. Extensive experience scoring and patented Smart Topic technology give companies a holistic view of customers.
Nextiva CRM pricing begins at $10.00 per month, per user, they do not have a free version, but they do allow a free trial.
Nextiva pricing
Nextiva offers 3 main Cloud Phone System plans that start as low as $19/mo/user, including a free one-month trial. Cloud Phone system can be purchased separately or as a part of their Business Communication Suite.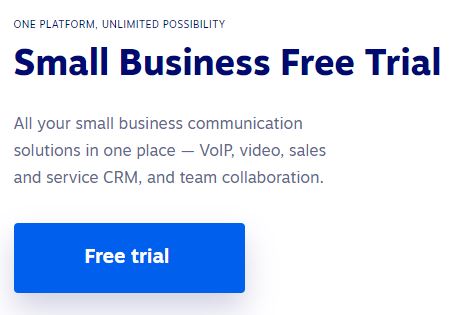 Nextiva Vs Ringcentral
Nextiva and RingCentral are top cloud-based business voice-over-internet-protocol (VoIP) providers with novel services and sound functionality bundled under competitive, affordable prices.
However, Nextiva provides more superior features at lower ranges, while RingCentral's comprehensive integrations and robust APIs make more sense for firms looking for the complete communications unit.
As an outcome, these platforms go above and beyond to deliver holistic unified communications as a service (UCaaS) platform and are particularly best solutions for the following:
Nextiva: Most suitable for small companies that want access to exceptional features without upgrading to premium ranges
RingCentral: Fittest for scaling businesses that want an all-in-one communications solution that works for the startup phase to the enterprise days.
How We Evaluated Nextiva vs RingCentral
To find the subtle nuances among these two platforms, we jumped deep into the nitty-gritty. We wanted to reveal which service gave the most reliability and functionality at the most economical prices.
You can see below the prime criteria we used to differentiate Nextiva and RingCentral:
Price: We examined ranges to see which service provided the most features at the lowest prices.
Highlights: We examined each platforms' features to determine which has more outstanding call answering management and back-end functionality.
Scalability: We examined pricing, features, and functionality to determine which platform makes it more straightforward for scaling businesses.
Setup: We analyzed the structure to learn which service makes it easy to get up and run fast.
Ease of use: We studied each solution's desktop and web applications to find which is more straightforward to use for both the agents and call recipients.
Support: We compared the availability of customer support, support channels, community help, and quality of guides and resources.
Overall customer reviews: We analyzed studies from small businesses to learn about their experiences using the platforms.
Why Nextiva Is the Better Option for Small Businesses in Want of a Budget-Friendly UCaaS Platform
Higher Maximum Participants: Nextiva empowers you to have critical conversations with big groups, regardless of your pricing tier.
One-stop-shop: Whether you require calling, video conferencing, messaging, or fax services, Nextiva provides all the communication services you could want.
Call Pop: Call Pop is a novel Nextiva feature that immediately shows important caller details on your screen before answering the phone, giving you all the information you need to jump on a call with calm, collected confidence.
Nextiva Vs. Vonage
The best voice-over-internet-protocol (VoIP) service guarantees crystal clear phone calls, allows video conferencing, and keeps teams connected with clients.
Nextiva, and Vonage present small cloud phone system at budget-friendly rates. However, variations exist, and it's necessary to compare the solutions before arriving at a conclusion.
Nextiva: Most suitable for small to medium-sized businesses wanting a complete unified communications (UC) platform
Vonage: Great option for small businesses looking for local international phone numbers and a UC application.
How We Assessed Vonage vs. Nextiva
Since Nextiva and Vonage offer comparable features, we dug into their variations to find the best use cases for each service. We checked calling packages, pricing, and overall comfort of use.
We based our findings on the following criteria:
Plan tiers and pricing
Usability of desktop and mobile applications
Standard cloud phone system calling features
Availability of advanced features
Free and paid integrations
Popularity and customer ratings
Scalability of services
While Vonage is a superb decision for setting up a neighborhood business telephone number in a non-U.S. country, Nextiva gets our decision to favor the best brought together correspondence stage.
Its features function admirably for organizations, everything being equal, and the plans permit you to scale your business without changing to another supplier.
Why Is Nextiva Better?
Expertly recorded welcome: Both Vonage and Nextiva let you record custom welcome. Nextiva makes this a stride further by offering one to three free welcome recorded by an expert voice craftsman on its Professional, Enterprise, and Ultimate plans.
Call Pop: The Call Pop capacity goes ahead with all plans, aside from the Essential bundle. It's an independent component that doesn't need to mix with existing deals devices.
In our examination, Vonage offers Call Pop with Salesforce incorporation on its Premium and Advanced plans, which are more costly than Nextiva's equivalent bundles.
Call recording: Video gathering and call recording come standard on Enterprise and Ultimate plans, or it's accessible as extra help. You'll pay $5 to $10 per client each month to record calls and gatherings.
Conversely, Vonage offers 15 on-request long stretches of call recording on its Advanced arrangement or as an extra. You'll pay $4.99 per expansion each month or $49.99 each month for companywide recording.
Nextiva Vs. jive
One of the main contrasts between Nextiva and Jive is that Jive furnishes you with more incorporations. You can utilize their administrations on Windows and Mac working frameworks, just as iPhones, iPads, and Android gadgets. Nextiva can only work with iPhones, iPads, and Android gadgets, limiting some specific organizations.
The 3-level pricing structure accessible with Nextiva might be more attractive to organizations. It allows companies to begin with a lower month-to-month cost and have the adaptability redesign as they develop.
Jive's pricing plan may just bode well for organizations with more representatives as the costs are lower with the more clients you have.
Both Nextiva and Jive offer some extraordinary VoIP administrations to help your business' correspondences become bound together for improved profitability.
Make sure to consider the fundamental features referenced about both VoIP specialist organizations to pick the one you believe is appropriate.
Conclusion – Nextiva Cloud Phone System Review
In the current situation, I believe working remotely is becoming a new norm in organizational culture. The expanding measure of cooperation between organizations, representatives, and clients working the nation over and globally implies powerful communication is a higher priority than any time in recent memory.
The Nextiva App can give your organization adaptability, comfort, and versatility to upgrade representative and client commitment.
The Nextiva App is a business phone system that you can download on your PC, tablet, or cell phone and shares similar abilities as a work area telephone. Notwithstanding a representatives' area, clients get to record and highlight settings effectively inside their gadget from anyplace—these outcomes expand profitability.
By utilizing the Nextiva App, representatives can deal with their interchanges in a single spot and use voice, video, texting, screen sharing, and presence administrations — all from one gadget.