So are you thinking about how to start a blog or website from scratch.
Creating your website is a way to showcase your brand to people digitally. There are billions of prepaying searches on google and an average search on 10 million websites.
There are some steps that a person can follow and start their website from the initial level to a professional level even. The first step is to choose your purpose for creating a website, and then you have to choose a platform on which platform you will develop your website.
It can be your website or some other platform like Let's Blogger, WordPress, etc. In creating a website, a domain name and hosting are also essential parts of your website. It also guides for WordPress Installation and Blogging tips. You can make money by starting your website by selling products, services, or just advertising, but it's up to you how you want to make money.
What is Website Building?
Website building falls in a digital content category and is a collective name covering almost everything like blogging, e-commerce, business, or portfolio.
Now, if you've read till now, it means you're willing to create a website, which is why you're reading this article. To continue reading the article because we're going to cover everything you should consider before starting a website, as this article is about web development. So let's talk about it.
The website is a chunk of content marketing or showcasing; it's all about your brand in the digital type.
You can gain traffic and visitors by publishing your content on your website. The more interesting, trending, and helpful your website, the more traffic (audience) you'll gain.
Here, the question is, what is the difference between blogs and websites? Both are the same. A blog is just a subtype of a website, while the website covers every web page on the internet. Like you're reading this article on our blog, which is a website.
How to Start a Blog/Website for Free?
Do you want to create a website for free? If we speak logically, then Yes! We can create a website for completely free. You don't need to pay even a single buck when creating a free website. You can even found free hosting, free domain, and a free cost platform. However, you didn't know the truth behind this free development.
First of all, the free domain providers will add their watermark/ ads to your domain. For example, if you've got a domain like article.com, you'll have to face a watermark in the free domain, e.g., article.blogspot.com, article.wixsite.com, article.tumblr.com, and all that. It depends on which free domain platform you choose, and they will put their watermark on your domain because it's free.
Costs to Consider
The cost will always be a factor when choosing a platform regardless of budget. But not only do you need to consider the upfront costs of building a website, but also the rollout, long-term maintenance costs, and ongoing support.
Keep in mind that nothing is truly free. Even advanced solutions like WordPress and Blogger will require extra time and training to leverage your website to its potential. You'll also need to consider the costs of switching platforms if you outgrow your current one in the future.
Top 5 Hosting and Domain Companies for Blogs
We prefer GreenGeeks because they offer all the essential services in their packages. Also, GreenGeeks has the lowest rates among all these companies and is way cheaper than Bluehost.
Bluehost is good for large-scale blogs, but for a small scale, this hosting is best. Their server speed and CPU but are the best fit for those websites that focus on loading speed, and their servers are so fast that it will not affect the SEO of your website.
Their speed and servers are top-notch, but if you're a beginner, GreenGeeks is our recommendation for you. Below we've written detailed steps on how you can set up GreenGeeks!
Initially, Select a Platform to create Your Website On
There are many various platforms you will choose between to assist you in building an internet site without entering one line of code.
WordPress, Joomla, Drupal, and so on.
Website building is often fun and straightforward with a content management platform. However, you do not get to be an expert designer to create your website.
Selecting a content management system that works best for your needs will make the method tons smoother and more enjoyable. For example, a little Business site, or are you looking to entertain or inform others with a blog or content site?
With more than 40,000 websites hosted here at GreenGeeks, we have seen our justifiable share of internet sites, and that we know first-hand what the major popular and straightforward-to-use platforms are.
1. Setup your domain name
Go to GreenGeeks and set up your login credentials. You may have authenticated email or text authentication for signup upon your location.
On the landing page, click on "Get Started Now," on the next page, you will be asked to select your web hosting package. You can see the package details using the link GreenGeeks.
After selecting the package, you will be asked to create a Domain Name. Next, you will be got to enter the domain you've got chosen and click on Check Availability to countercheck that's available.
Note: If you have already registered a domain name, you can enter it in the box on the right
2. Domain Account Holder Information:
Then you only got to fill out your account details, Name, Address and contact details, etc.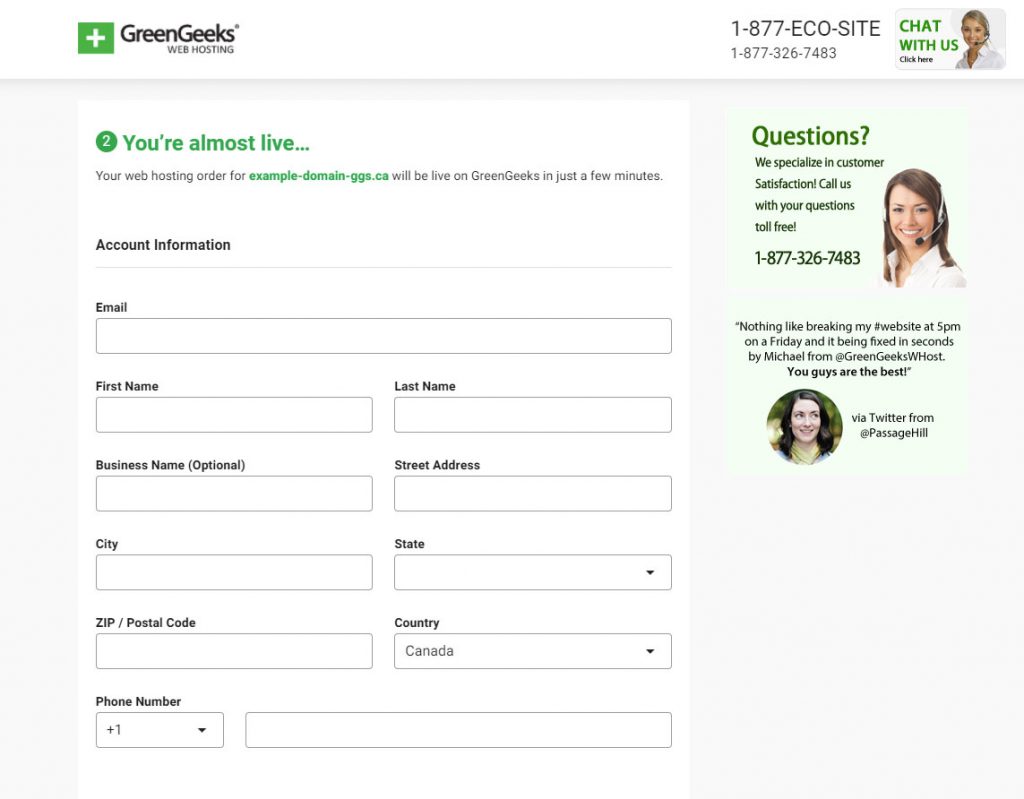 In the next section, you will choose if you would like to pay by the month, yearly, or the most cost-effective rate available, 2 or 3 years.
Just remember that the only monthly plan will incur an additional setup fee and not include the free domain. So, I might suggest you choose the 1-year plan at a minimum, or if your funds allow it, choose 2 or 3 years for the simplest deal.
You can also choose your hosting server location here. The choices are the US, Canada, or Europe. So, you would like to settle on the one where the bulk of your traffic will be coming from.
The system will automatically add the best Coupon code for you.
Then you will choose if you would like the domain WHOIS privacy. Domain privacy means details of the owner of your website, and you will set your details to Publicly available otherwise, you can keep them Private.
Finally, once you have chosen all those options, you would like to scroll down and enter your payment information. (you also can prefer to pay by PayPal by clicking the See more payment options link).
Once you are done there, click the Button at rock bottom that says Create Account and start.
When you have completed the signup process, we will get busy fixing your domain and hosting service. Then once set up is ready, you will receive a welcome email with all the small print you would like to login into your account.
As soon as you sign up, you will be redirected to Quick Launch Wizard. Then, as depicted below, select on Start New Website option.
4. How to Start a Blog/ Website:
Once you selected the Start New Website Option, you will now have different options Like WordPress, WordPress + WooCommerce, and Weebly, as shown in the below picture.
5. GreenGeeks Select Your App:
Select option WordPress App and click on Continue.
6. Pick Your Website Themes & Attributes:
On the next screen, you will be asked for.
Site Information.

Details regarding your website to enhance the possibilities while searching over different search engines.
SSL Configuration (Secure Access to Website).

SSL certificates are what enable websites to move from HTTP to HTTPS, which is more secure. An SSL certificate is a data file hosted in a website's origin server. SSL certificates make SSL/TLS encryption possible, and they contain the website's public key and the website's identity, along with related information.
Pick a Theme.

Currently, eight themes are available, which are free, can be seen in the picture. They are very popular themes and allow you to create amazing websites. Select your theme and go further.

Plugins.

You can have 5 plugins in the Quick Launch Wizard.

Elementor Website Builder

Light Speed & LS Cache Plugins (Installed by default)
7. You Are All Done.
Congratulations, you now have an internet site set up and live. But there's still tons more you will do with WordPress. There are thousands of Plugins and custom edits you will make to form your site do whatever you would like it to try to do.
If you are looking to secure your website or blog, checkout our post How to secure a website
At GreenGeeks, we have put together a good range of WordPress tutorials to assist you in learning the ins and outs of your new WordPress site.
Conclusion – How to start a blog from scratch using the quick launch wizard
Thank you for reading this far. I hope you found this post useful.
Hope you have found the quick launch tool by GreenGeeks easy to use.
Let me know in the comments below.