The never-ending fuzz of the SimilarWeb vs. Semrush debate is only getting more 'debatable' over time. Is SimilarWeb a Semrush alternative? It has taken a toll among the SEO professionals for good.  Every user has their own belief, but some feel that SimilarWeb is better than Semrush.
While Semrush has been bossing around in the industry for quite some time, it is an absolute no-brainer that SimilarWeb is proving to be a tough competitor. So, which one is better? Which one of them has more functionality? Which software offers the best bang for the buck? Let's find out.
SimilarWeb vs. Semrush: A Detailed Comparison!
| | | |
| --- | --- | --- |
| Parameters | SimilarWeb | Semrush |
| Mobile Data Analytics | Need to be purchased separately | Included by default in Semrush Traffic Analytics |
| SEO Features | it offers basic SEO features only | It offers advanced SEO features like rank tracking, huge database of backlinks for backlink analysis, keyword grouping, and on-page search engine optimization |
| Accuracy | It uses web crawlers and user panels; presents a large margin of error because of high-level marketing projections | It depends on accurate keyword data (~20 billion keywords), thus is more accurate |
| Price | Pricing depends on customizations | Starting from $119.95 per month |
1.   Marketing Analytics Vs. Web Analytics Tool
SimilarWeb has gained quite the fame in leveraging itself to web measurement and being an excellent competitive analysis tool. Through its offerings, you would be able to monitor the website's health, sneak into your competitors regularly, and develop opportunities progressively in the decision-making process.
The best part is that it applies this evaluation to other comparable sites. The resulting surveillance process gathers vital information for measuring your site's performance and learning about tried-and-true commercial tactics as well as potential development prospects.
Semrush is more of a Grub Hub for all your digital marketing needs. It allows you to facilitate traffic analysis of all possible marketing channels you can think of. Plus, the added benefit of decision making based on the following data you collect.
Having said that, its auditing tool is also worth mentioning. If you are a digital marketing expert, consider it as your best bud. It will help you to pinpoint all the loopholes in the SEO processes. And do we need to mention the reward for rectifying those? A higher search engine ranking, just in case you would want to know!
2.  Data Accuracy
Almost all organizations rely on either SimilarWeb or Semrush.  The way they work is by estimating site visitor levels using various aggregated data types.
Several of the following data sources are commonly used in traffic analysis:
Information gathered from website owners who have previously utilized the traffic analyzer in question.
Data from internet service providers and other partners.
Data from the public domain that was crawled.
Data from clickstreams (anonymized traffic samples).
Browser add ons and extensions capture undisclosed panel data.
Is SimilarWeb a reliable source of accuracy?
To generate essential insights, SimilarWeb uses its web crawlers and user panels as data sources. However, it is designed for high-level market projections, so anticipate a large margin of error.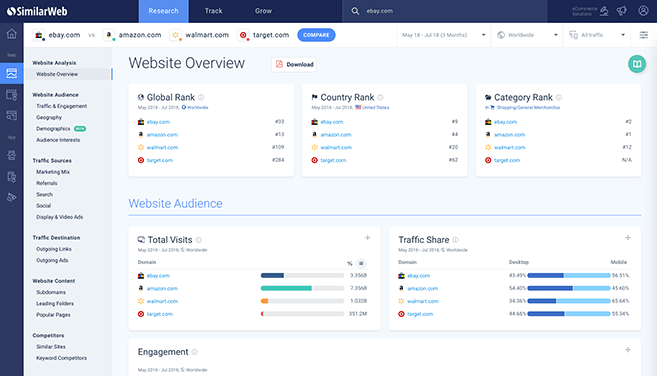 How accurate and reliable is Semrush?
Semrush, on the other hand, is based on databases that include over 20 billion keywords from all around the world. SimilarWeb represents a better size and generalized rankings for influential brands, while Semrush puts its money on the "more accurate" keyword data.  To put it another way, Semrush is a search marketing program to its very core.
3.  SEO Features
Semrush provides you with a plethora of advanced SEO features that keep you ahead of your competitors. Some of its best accolades are rank tracking, huge database of backlinks for backlink analysis, keyword grouping, and on-page search engine optimization, to name a few.
On the other hand, SimilarWeb provides only basic SEO features that revolve around website traffic analytics. You are out of luck if you seek a backlink database and an in-depth keyword research tool or tank tracks.
4.   SimilarWeb or Semrush: Preferred Choice for Marketers
Both Semrush and SimilarWeb exist to provide information and insights about your website.  They work as a traffic analyzer (for better SEO and relevant keywords). 
Semrush, on the other hand, is more than just a traffic analyzer, and it outperforms SimilarWeb in terms of accuracy, price, and functionality.
SimilarWeb is commonly known as a tool for assessing online traffic and competitors. It allows you to keep a close eye on your competition and helps you peek into their insights in depth. Traffic, site health, keywords, domain authorities, and, especially, your direct competitors may be tracked using SimilarWeb. 
The significant part is that it enables you to locate other websites comparable to your business in the exact location. Having said that, you find no statistics 100% accurate on SimilarWeb. One may claim it is almost 70 to 75%, similar to the real-life stats. However, it is sufficient to have a notion of how your opponent does on the internet.
Semrush can do far more than SimilarWeb, on the other hand. It offers several valuable features that might assist you in addressing all your website's significant concerns. It has the same functionality as in SimilarWeb. 
One thing we have not seen, however, is the difference between Semrush and SimilarWeb. Semrush is somewhat more precise and offers a more complete website analysis than the SimilarWeb. Both analyzing software differs in their source of data collecting.
5.  Mobile Data Analytics
Mobile traffic statistics are readily available in Semrush Traffic Analytics at no extra cost!
On the other hand, it must be purchased separately in SimilarWeb to unlock the mobile data features.
The mobile marketing industry is expected to grow by 72% in the next four years. Considering the fact, Semrush has done a great job in beating SimilarWeb "fair and square" in this department! There goes another point to Semrush.
6.  Social Media
Well, SimilarWeb is just not the exact solution for your profound analysis of social media. Traffic analysis is the farthest possible in terms of social media. To put it simply (and do not get us wrong), we are talking about traffic generated from social media- and not traffic on social media.
One of the traffic sources you will be able to track is the "social via the website analysis feature. It provides statistics on the quantity of social traffic to a particular location within a specific timeframe.
In particular, the Report reveals the total number of social visits, the social pages, and the traffic share. It is not the worst, but the truth be told, it is not comprehensive either.  That's all! In social media analysis, Semrush, on the other hand, is rather deadly (in the most profitable way).
It gives information on the traffic produced from different social media platforms. But there is nothing like its flagship feature here, the social media tracker. It is nothing like anything. This tracker does not just concern your marketing plans for social media. It also deals with the social channels of your rivals.
Therefore, you may explain the social media, the material you post, the frequency with which you publish, and the added benefit of the most efficient participation techniques. Basically, it gives you all the crucial pieces of information needed to boost your entire social media campaign.
Notable Difference between SimilarWeb vs. Semrush
There is a critical point that separates the two and gives them their own unique vibe.
For online visibility, Search Engine Optimization (SEO), Pay per click (PPC), and social media, Semrush gives a comprehensive Traffic Analytics package. SimilarWeb, on the other hand, is purely concerned with website statistics.
SimilarWeb vs. Semrush: Price Comparison
What can possibly be more realistic (or practical) than numbers? Let's talk about it!
The Semrush Traffic Analytics Tool, irrespective of all regional databases, and insights of information capabilities, are offered for $200 per month for the website traffic analysis.
The full pricing of the complete package starts at $299.95 per month. It is because you obtain all the benefits stated in this post by adding any Semrush membership.
The best part about Semrush is that the pricing will always be the same for everyone, wherever you are from. The payment arrangement for SimilarWeb is more convoluted, somewhat confusing. You need to purchase each national database separately, and you will have to pay individually for many of the extras (top pages, mobile data, etc.).
Oh yeah, and did we mention that even the base package is pretty expensive and has no fixed price?
Final Verdict: Is SimilarWeb A Semrush Alternative: Which one to pick?
The bottom line is, if this is what you or your organization pay for, we cannot stop you from obtaining one over the other (SimilarWeb or Semrush).
However, it may be better to register with Semrush Traffic Analytics if you want to spend your money and time resources more efficiently. You get more for less money using this method. If you require extensive research of digital marketing channels besides viewing the broader image, you may also add a general Semrush membership to your toolset.